Forewords. 
Welcome you all guys to this blog, long time that I don't make myself at home here and start writing but this time I came with something new that I have never though to do someday and that's about the review thing in this huge and digital world and also something very interesting from me is that I got notice that several of my followers are fervent readers of this so this is very important and honorable for me because I started this blog in A.S. thinking that nothing was about to happen, with no more to say, thanks to you all that appreciate this blog and read my words looking for something different.


The New Thing.
This last month I got a huge opportunity to be in an special place that I never though to be never and it's about to get a good seat to be part of live class sessions with Spicer McLeroy, here is his profile in AS: https://www.artstation.com/shotgunscream and his web page just in case: https://shotgunscream.com/
After participating in the XMD Scholarship contest good things happened very good things and for those who are interested in follow his channel and XMD channels here is the Instagram so stay aware https://www.instagram.com/xmd_creator/ for sure they will be posting new challenge and contest along the year. 
So back to my point for me it has been an incredible experience of digital learning, specially me I like to see course and buy them, buy real and solid content to learn and keep improving your career because the country where I become this things are nonexistent and also I spent 6 years of my life getting a degree in Fine Arts so this thing about the online learning is very new and great for me.
I need to be more clear because some people like a direct and short review and others needs way more reason to buy stuff and feel secure, well guys my experience so far with the Character Creation for Collectibles From XMD Academy dictated by Spicer McLeroy, the course experience the first 48 hours it has destroyed my expectation so far but don't be scare, destroy in a good reason because the whole course surpassed what I was about to expect, using a short conclusion for those who wants to check out the course and stop reading my answer is yes buy it! go ahead feel sure and secure that your money will be respected and honored by all the content it have and here is the link https://www.xmdacademy.com/courses/character-creation-for-collectibles-on-demand
Great audio quality, honestly outstanding quality that I dare you to find a good one around the web, amazing definition of the digital video of all the course but more important than that is the content, the content is huge! and not only huge it's detailed and very well explained and for those who feel scared to get bored in the first 35 min this is a perfect course to get entertainment and incredible and valuable knowledge hours. So this is a short review and from now on be aware that it comes the huge review because I have so much to say and I have just explored the Unit 1 that is related to the human skull and face anatomy and of course a little bit more.
When I got the course I though "Ok I will make a review as soon as I finish the whole course" but is so incredible and so well explained that I can't hold up my words for too much for that reason I'm making the first part of the review. Honestly I have spent a little more than 48 hours along the week, I got a couple of contracts by the beginning of this month so it delayed a lot my experience through this but the course is so amazing that I'm even waking up 2 to 3 hours early to get time to see it and study every day.
Why am I so excited? because a long the year of my experience with Zbrush I have spent money quite money in courses and of course I have learned a lot, I learned so much that I was able to open my own online store here and it has worked perfectly for me because this store in AS has become one of my main entry beside the contracts to get money from the CG world, and when I knew or buy the one of the Spicer products here about anatomy for me it was the beginning of something new and everlasting because since I'm a kid I'm a huge fan of George Bridgman and Spicer reminds me of his methodical and strict respect for anatomy that not all the artist are willing to apply these days because as the same Spicer said, is not about to learn from what you see, is about to create based in what you know, and yes that's the keyword! Knowledge.
To be more clear guys, here an image that I got from my physical library of George Bridgman long time ago.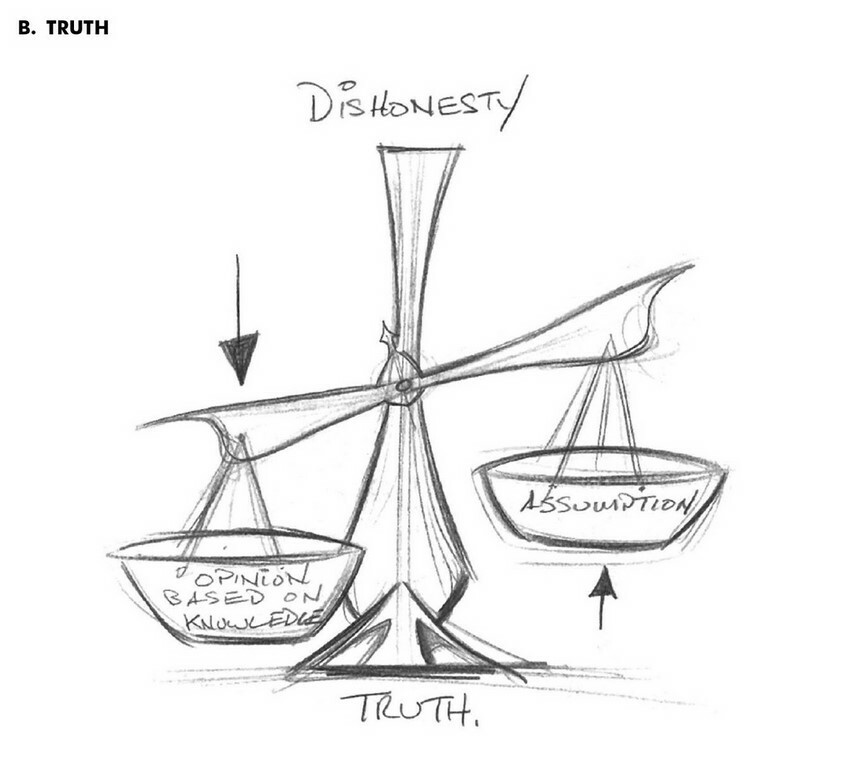 As soon as I got into this live session class with McLeroy on XMD Academy his method and concept remind me of this image from long time ago when I was a teenager looking for my path in the art world, and it simply explain it at all, assume that you thing that you are correct without any knowledge in your brain can result in a dishonest design but if you put all of your effort and time to base your opinion in good and quality knowledge you will get a true design or an honest design, addressing this point now is the perfect moment to invite you to check out the XMD Academy web page (https://www.xmdacademy.com/) because all of the content here have a fair price and also you can get honest and based knowledge content very easy and pure because the both experience the On Demand and the Live Session class are awesome and out of this world, even getting the On Demand classes you can access to a limitless knowledge to learn anatomy and the important things in the collectible worlds, but if you are more interested to me this huge for real and get the personal experience to be in teach with McLeroy I recommend you blindly to buy this course and of course check out the other content in the McLeroy webpage and XMD Academy.
Second Point.


Yes I have spent money in other digital products or online courses on demand and as I told before I'm a kind of human anatomy freak and I blindly say that this is one of the best courses with the best price in all over the web if you want to study anatomy and boost up for real your skills list and yes talent is important why not, but we can see how knowledge and practice can overcome natural talent very often, so even if you feel talent and gifted this is a course for you too to expand and solidify more your talent.
Money is everything here, but when is about money and preparing yourself for your future of course money becomes important and you need to be wise how to spent it and get the best result ever, and I can say for sure that this course can offer you that, even telling that this course can overcome and surpass any "Famous Jane Doe or John Doe" anatomy courses in any digital art community and yes I'm getting here in deep water but I'm not scare because my experience so far with the first unit inside the course has been so overwhelming that I'm right now a Sunday afternoon writing an honest review even knowing that I haven't finish the course but I can't hold it anymore and I feel in the duty to show this to my followers and let them know what is this about because courses like this are barely existent in this digital world.
First Unit Practice.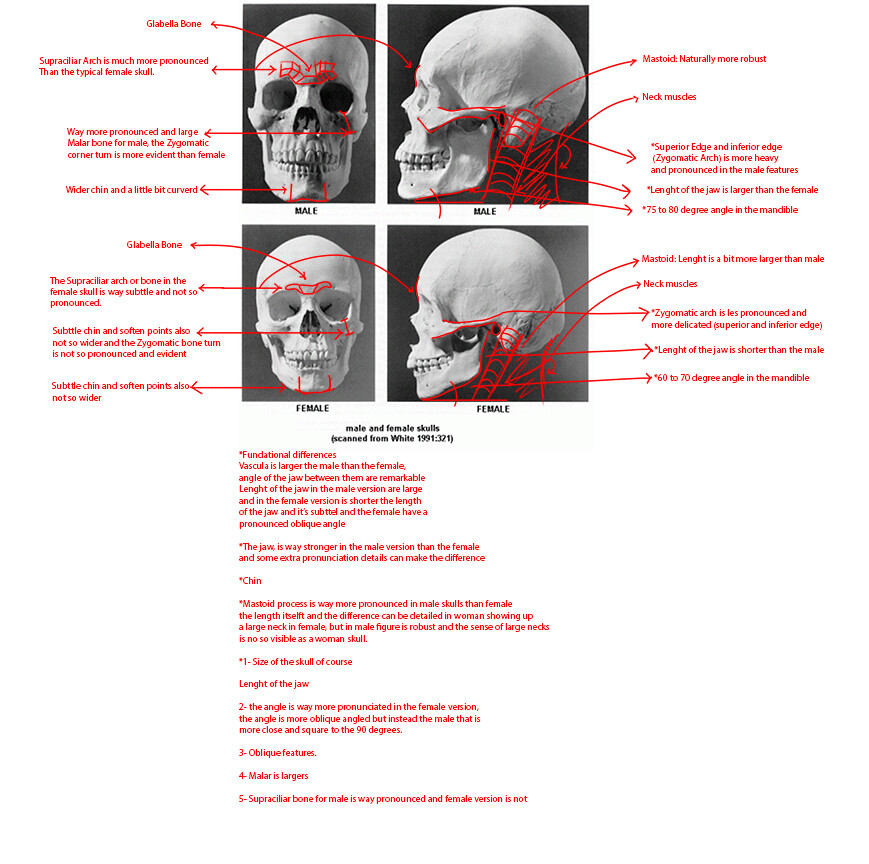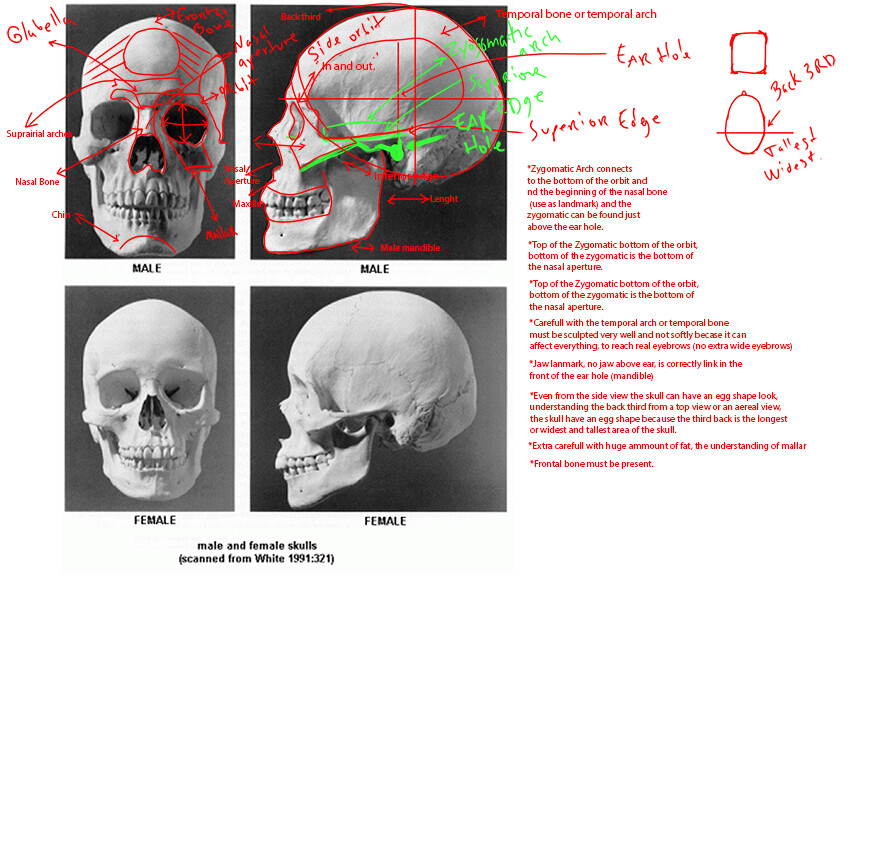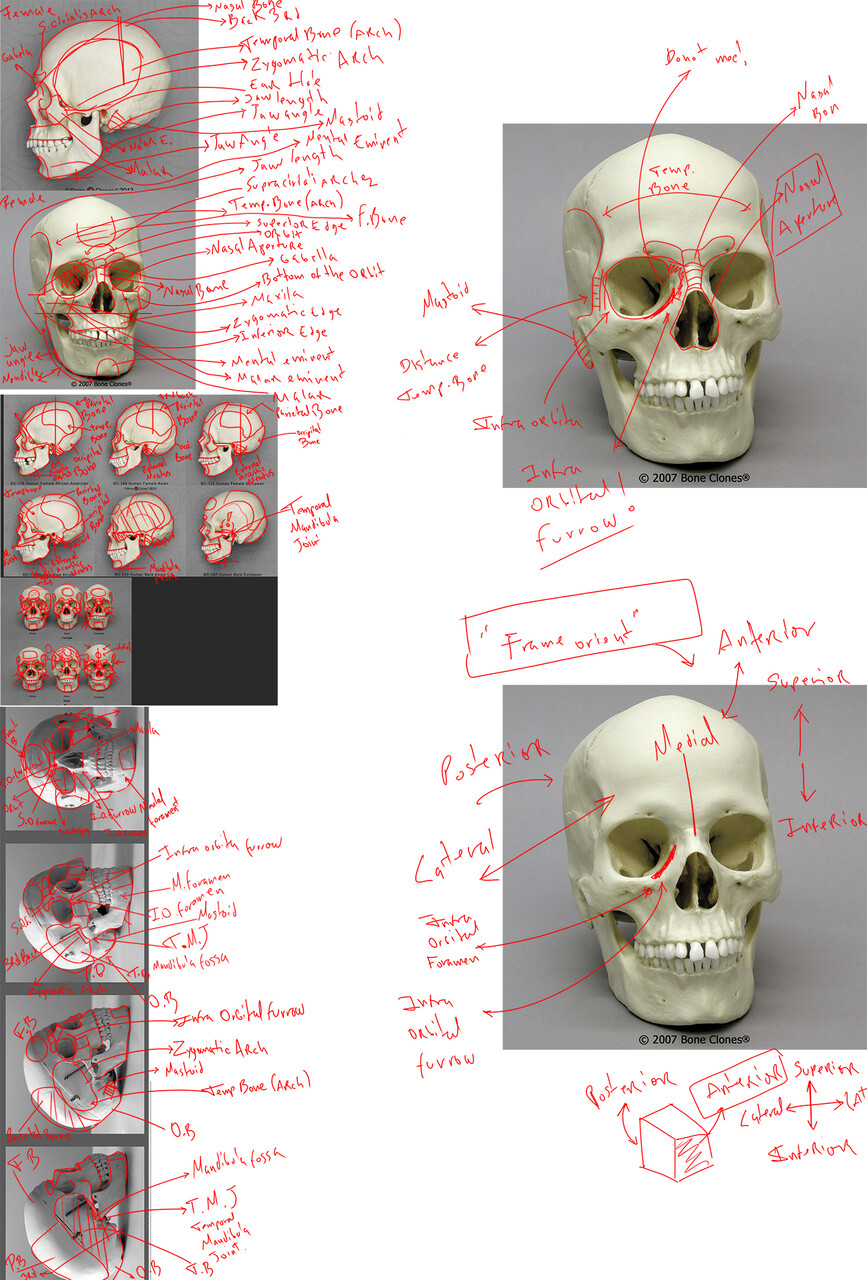 Bunch of image I know I know, they are repetitive I know I know too, but is through repetition and perseverance that you will win, and this is only the beginning because I'm in the middle of the facial mechanism, facial fat and facial muscle practice but as I said I can't hold it anymore so I decided to start this. I know it's all confusing and very sketchy but this is what I want to mean, just start to doing something no matter how much sketchy are your lines or how much scare you feel about learning anatomy, I never though that I was capable to debunk and breakdown so many skull parts to get a perfect and well based design adding that if you know all of this from memory you can play with it and make your own style based in very good knowledge, I can now say the difference between a male and female skull and also I push me further to search more of it and feed my learning way more and I never wanted to spent so many hours in only unique thing to keep learning of it and I can't wait to keep drawing over tons of image to see what I have learn from this amazing experience.
Why I took 48 hours to learn this, because is not enough 48 hours to learn something that you are going to use the rest of your life in your personal career, and so far my most biggest achievement is that I know all the external parts of the skulls by memory and what does that means? for me I can translate that in more money and more income, because know I feel more secure and professional to work in the skull anatomy of any character and also I'm planing to start the process of drawing a skull every day now that I know from memory all the external parts.
Boring? yes it can be boring for some of you but if something can gives you money and boost your income as professional for me is nothing boring, ironically I know that you can't spent money in the course but I can say to you that at the first sight you are going to feel that you are making money reviewing and learning from this course because it have so much value en solid knowledge that you are going to feel that you are doing money while you learn.
Of course this is not all, I hope to return next week with more of the content of this amazing course because this is just the unit one.
By other topic, this course have the Spicer and XMD seal and XMD has never let me down, I got a life time membership for the XMD Source (https://xmdsource.com/) and it means a lot to me because it has helped me to save time in a lot of commercial projects and also I got more than a couple products from McLeroy AS marketplace (https://www.artstation.com/shotgunscream/store) so I encourage you to try it too because good and honest products deserves an honest review.


Conclusion.
Make yourself a favor and stop arguing with yourself looking for the most cheap course and putting in danger your career knowledge, I have learn something very good so far looking at this course that will help me for the rest of my life, there is no more important thing that self security, because with self security you can make any client fall in love or your work, this can make the client hire and respect you for what you know no for what you do or copy from other places.
- I'm a audio freak and the audio quality is outstanding and very important for me to learn, it have a great distinguishable English accent so is not so difficult to learn.
- Image and video quality is more than outstanding.
- And the most important point, the content value, the content value is everything here.
I know there are just three reasons but this three reasons are enough to get the best of you and start learning from this academy and from McLeroy because he is made for teach and have a great soul to make others learn.
This is all for now, I hope not forget something and hope to write for you soon guys enjoy this blog entry and til next post.
Diego M. Zanelli
https://www.artstation.com/thr_bhld
https://www.instagram.com/thr_bhld/