Hello guys, hello to you all out there.
I'm back and this time is not a new product or something like that, I know I used to post more stuff here in the blog area of AS but I have become very busy doing several commissions at the beginning of this year that I have stopped completely the 1 year challenge, after 4 months of running the challenge posting a daily sculpt it resulted very good before the end of the year, but back to my real topic and the title. 
I'm no artist with tons of followers yet but I hope this reach someone struggling or receiving the same scamming email or just to inform to all that there is suspicios people out of ArtStation using the name of this huge community  to scam others.
The Real Thing.
Like two days ago I received an Email on my Gmail, a very normal email to be honest from a so called new client wanting my services and it was clearly saying that he or her (I don't know honesty) saw my profile on ArtStation and he or her wanted to give a me a project and if I was interested I just need to write back to that person, to be more clear I'll show you up the real email so I can give more layers of details to the topic.

Note: Some words or phrases are in Spanish because that's my main language on the email but specifically is just saying that I marked as spam the email address who was contacting me and you can check out the email and the title that clearly says "This is Kaspar From (www.artstation.com)" For that reason I take this very seriously because the real team from AS or a real client are not going to scam you as I'm going to show up next.
Back to the topic, I saw the email and for me at the beginning was legit I said onto myself "another client needing a job to get done" so to be more short and resume this, up next is my answer:

As simply as that I answered and the person answered me very late that night just telling me this nonsense and full of fantasy email: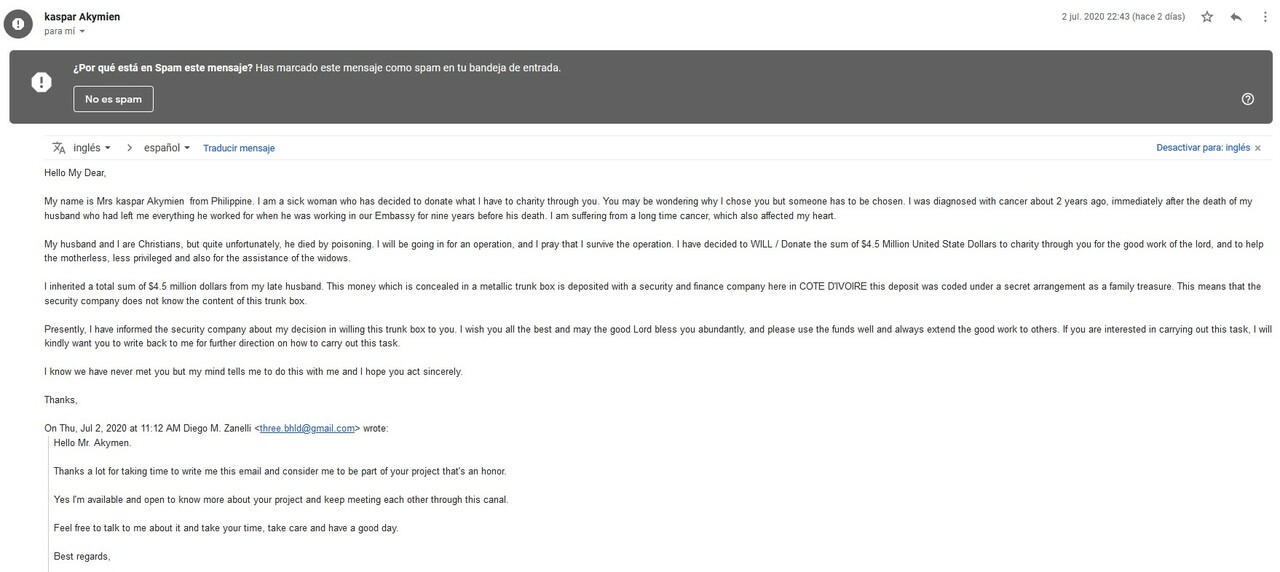 And yes that's a non-clever scam very easy to notice that you are not going to receive from the nothing 4.5 million of dollars, common... I know I do scifi stuff but this is way out of the reality even out of the reality of the monsters that I make for living and believe me... I do crazy stuff related to sculpts and weird creatures and this email is way weird than all of my monsters together.
I clearly don't answer them I just press the spam button and block them there is no sense to believe this or follow the trail to it I just decided to not lose my time answering this email and I choose to aware others of what is happening out there related to scams.
To End This.
I know to the majority of you or all of the reader of this forgotten blog even a kid can see that there is a scam upcoming from this suspicious people but dear people out there, there is still people that is still getting scammed from the so called "My cousin the prince of Uganda is in trouble send me money and I will return you millions". Yes... Is sad but true and what scares me a bit is that this people is using ArtStation name and it's not fear because inside of this community there is a lot of good and amazing artist making their money to live here, building their community of followers here and so on and I do respect AS, this has been one of the most amazing digital universe to get you known.
No more to say, take care and I hope this blog post can reach someone or even better reach someone from the AS team and make a huge difference than me.
Best and til next time,
Diego. Z